Movie Stars Series > Romy Schneider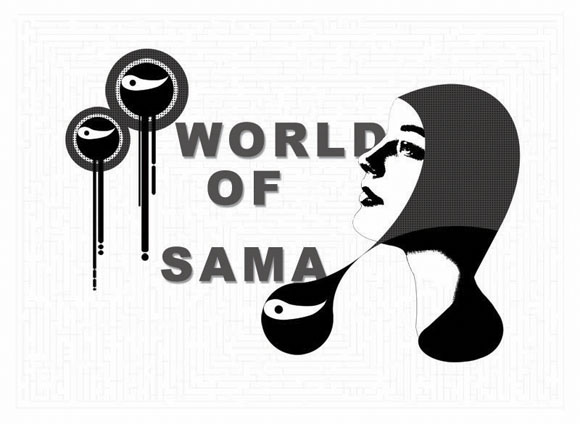 The 'Movie Stars Series' is a series of 16 portraits. Max Dana chose 16 of her favorite movie stars and she samazed them: 8 actors and 8 actresses. Al Pacino, Don Cheadle, Robert Redford and Sean Connery, but also Angelina Jolie, Sharon Stone, Lauren Bacall and Ingrid Bergman.
And Cary Grant, Jacques Tati, Lino Ventura, Mae West, Marlène Dietrich, Sidney Poitier, Simone Signoret… And last but not least, Romy Schneider. Each portrait captures the essence of the samazed personality, through the glance of the World of Sama…
"The choices were tough to make but I finally got a list of my 16 favorite Movie Stars, and I gave you a hint about four of them in the title of this post. On my top list, and it comes as no surprise to you I guess, is Cary Grant. I already samazed him a long time ago but I did a new portrait especially for the series. Elegance, class, charm, charism… I'm a bit nostalgic of this kind of actors, I must admit. On the opposite, the name of Angelina Jolie may come as a surprise but I think she's a very good actress (as recently seen in Changeling) and she's also very glamorous […] I chose an Austrian-born German actress who also held French citizenship: the great Romy Schneider. This May is the 27th anniversary of her death, so I thought it would make sense to publish her portrait. She was one of the most beautiful women in the world (and still is to me) and one of the greatest actresses of all time (yes, I mean it)…"

More about the Movie Stars Series on Max Dana's Blog:
 Cary Grant, Angelina Jolie, Sean Connery, Marlene Dietrich… Samazed!
 Romy Schneider, an everlasting star has been 'Samazed'
| | | |
| --- | --- | --- |
| | | |
bonanza says:

Didn't know Romy Schneider, looked great.

Where's Sharon Stone? She's my favorite actress 😛
Dittta says:

Amazing, this is huge, I like what Max Dana does a lot. I wish I could buy all the portraits…….. Redford anyone?
Moshuo says:

I love these portraits too but unfortunately one is missing… I thought maybe Max will listen to my demand but her choice was already made 🙁 🙂

Bises
Moshuo
I-GORE says:

ANGELINA!! Please show me the Angelina Jolie portrait!!
Pilar says:

¡Hola everyone!

Moshuo we already discussed that on the blog but unfortunately, G will not be samzed anytime soon. I regret it too but it's Max's personal choice…

Hopefully one day she will see the good in him like we see it ourselves! Jajaja

¡Adios!

The World of Sama

♦ What is the World of Sama? ♦
♦ Who are the Sama? ♦
♦ Who are the Shibi? ♦
♦ About Max Dana ♦
Contemporary Art


Photographies

Digital Art

Drawings



Special Occasion


Max Dana's Websites

♦ Max Dana, Official Site ♦
♦ Max Dana's Blog ♦
♦ The Sama Gazette ♦
♦ The World of Sama ♦
♦ da-eYe ♦