U.S Presidents Series > Barack Obama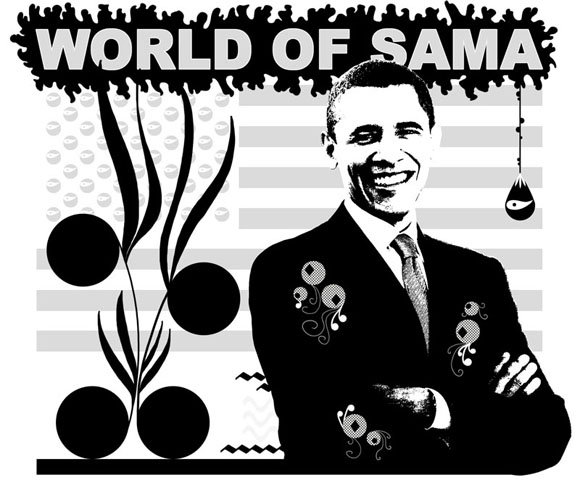 In 2006, Max Dana started a new series of portraits : 'U.S Presidents Series'. She decided to 'samaze' J. F. Kennedy, Al Gore, Bill and Hillary Clinton and soon-to-be president, Barack Obama. The series counts 4 portraits and the one presented on this page, is the Barack Obama portrait.
Two years later, during the Obama Campaign in 2008, this portrait has been spontanously used by some Obama supporters. Although the artist didn't make this portrait on purpose, it was considered like an endorsement to the Obama campaign by a group of French Obama supporters.
"I'm not American as you may have already noticed without any difficulty but a few months ago (back in september) I started to work on my new Samazed Series and my first work was about JFK, with no apparent reason besides the fact his assassination is still in everyone's memory (well, at least mine). Then I worked on other projects and in october An Inconvenient Truth was released in Europe, Al Gore was almost on every channel over here. I guess this is the reason why I decided to include him into the Samazed Series; on this work, he appears like a little genius (actually his head only) coming out of a magic lamp […] Then came the Clintons, Hillary and Bill. First Hillary supported her husband and he got the White House, now, his turn. Play King (Bill) or Queen (Hillary) and you'll get a samazed Clinton pair. And what about Barack Obama? He could be the new face of America…"

More about the U.S Presidents Series on Max Dana's Blog:
 JFK, Gore, Clinton and Obama into the Sama Family
| | | |
| --- | --- | --- |
| | | |
Tasia says:

Barack Obama is a very peaceful and easy going person. This is a very nice portrait of him, he'd surely love it too I guess.
BettyKohn says:

There are many details in your drawing.

It's one of my favorite.
Flamesh says:

I have a question for Max Dana and I would like to know why she didn't samaze Sarkozy. He's doing a lot for France and it is a good choice I think
Akvani says:

I first saw this portrait on your blog and I love it. It's detailed and I would love to have it in my home.
Sephiroot says:

I'd love to see the Clinton pair and Al Gore coming out of a magic lamp.

Will it possible to buy Max Dana's Art online someday?
OscarP. says:

I was among the French Obama supporters and the tshirts with this portrait have been a success. We didn't sell them of course but that's very nice of Max Dana to have let us print them even if she didn't want to officially support Obama campaign which I can understand.

I love this portrait much better the one Shepard Fairey. IMHO.
JohnnieW says:
nathan_zivi says:

I didn't see the sama on the flag LOL
Alfred says:

The World of Sama

♦ What is the World of Sama? ♦
♦ Who are the Sama? ♦
♦ Who are the Shibi? ♦
♦ About Max Dana ♦
Contemporary Art


Photographies

Digital Art

Drawings



Special Occasion


Max Dana's Websites

♦ Max Dana, Official Site ♦
♦ Max Dana's Blog ♦
♦ The Sama Gazette ♦
♦ The World of Sama ♦
♦ da-eYe ♦