Trouville has been Samazed!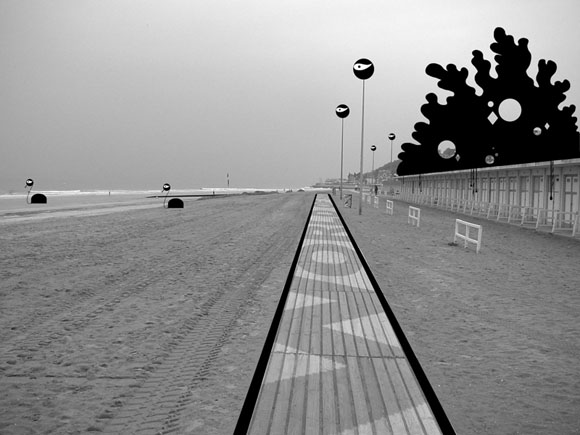 Trouville-Sur-Mer is a seaside resort and port on the English Channel, Calvados département. The city is separated from the neighbouring city of Deauville by the estuary of the river Touques. Max Dana is a habitue of the seafront, especially during offseason period, when the beach is empty and the sky is cloudy and gray.
This is the perfect moment for Max Dana to take photos and capture this very strange feeling: being alone on the beach, with only the sound of the waves wetting the sand… That is the exact moment when 'Trouville Plage' has been samazed!
"Lately I came to Trouville sur Mer (Calvados, France), a beautiful french town, a bridge away from Deauville, a city mostly known for its casino, the beach where the great movie from Claude Lelouch: A Man and a Woman (Un homme et une femme, 1966) was filmed and for the Deauville American Festival (in september). Trouville and Deauville are separated by a bridge but sometimes it looks like there is a world between both cities. One is believed to be hype and the other one more typical; I like both cities even if Trouville is my favorite place and this is the reason why I came in town recently. It was in the middle of the week, off-season and rainy but it was exactly what I was looking for. Nobody was on the beach, no sign of life on the 'planches', no sun and it was windy; I loved it…"

More about Trouville ('Plage' / Beach) Photos Series on Max Dana's Blog:
Trouville has been samazed!
| | | |
| --- | --- | --- |
| | | |
Elfanagan says:
JBKaval says:

I don't like Trouville……. What about the Bahamas ? 🙂
Fabien says:

This website is great to see Max Dana huge work. I know Trouville very well and this photography is very nice, I love the way Max samazed the beach. I know it's Trouville but it's also the World of sama beach now. Very cool to promote Trouville with contemporary art this quality it's fantastic. Merci!
Oleg says:

I hope one day I'll be lucky enough to travel to France and go to Trouville. The beach looks amazing and maybe I will have a chance to meet Max Dana there 😛

8)

The World of Sama

♦ What is the World of Sama? ♦
♦ Who are the Sama? ♦
♦ Who are the Shibi? ♦
♦ About Max Dana ♦
Contemporary Art


Photographies

Digital Art

Drawings



Special Occasion


Max Dana's Websites

♦ Max Dana, Official Site ♦
♦ Max Dana's Blog ♦
♦ The Sama Gazette ♦
♦ The World of Sama ♦
♦ da-eYe ♦